City Hall is located at 17160 SW Upper Boones Ferry Rd., Durham, Oregon 97224
Phone: 503-639-6851
Fax: 503-598-8595
Office Hours: 9:00am to 5:00pm, Monday – Friday
About Durham, Oregon
The City of Durham is a small, sylvan community located west of Bridgeport Village between Tigard and Tualatin. With convenient access to Interstate 5, Durham's proximity to Portland and areas south make it an ideal location. The town is approximately 265 acres with 52 acres of parks and open space. Fanno Creek runs through the city's largest park, Durham City Park. Trails connect Durham Park to Cook Park in Tigard and, over the Kia Kuts Pedestrian Bridge, Tualatin Park in Tualatin.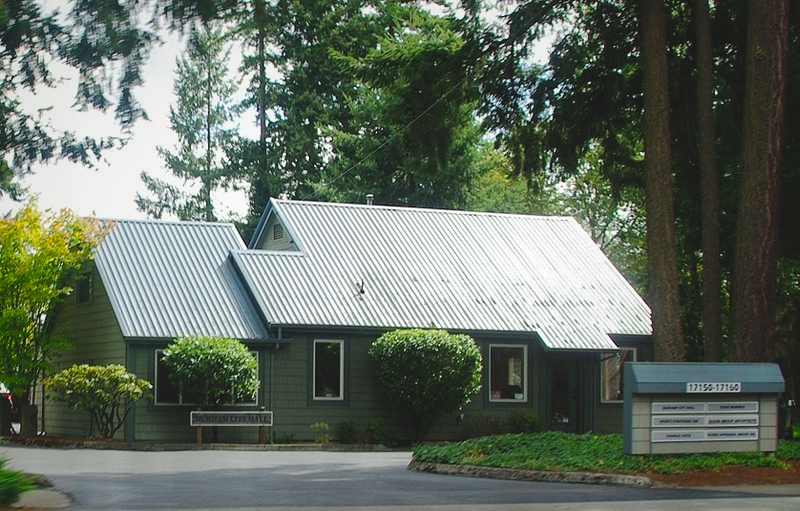 Durham is a residential community with 335 single-family homes and 435 apartment units. Retail businesses are not allowed in the City. The City's zoning allows professional office use, light industrial businesses, single family and multifamily housing.
Trees have always been a prominent part of Durham. In 1997, the city issued its only bond measure to purchase the Kingsgate Woods open space to prevent an office park from being built. The City has a strong Tree Ordinance, which requires permits for the removals of all trees greater than 5 inches in diameter as measured 4 feet above ground. The city maintains a strong partnership with Friends of Trees. Over the past ten years, Friends of Trees has planted over 18,500 native trees and shrubs along Fanno Creek in Durham City Park. Restoration efforts since the early 1990s have cleaned up Fanno Creek considerably. In 2015, Durham was presented with a "Tree for All Award" from Clean Water Services.
The City is named for Alonzo Durham who operated saw and flour mills on Fanno Creek from 1866-98. In the early 1900's, the Pilkingtons established a nursery in Durham. Many of the big trees in the area were planted by the Pilkington Nursery. The City was incorporated in 1966 by residents who were concerned that the area would become industrialized.
With an annual budget of $2.4 million, the City of Durham operates on a low fixed property tax rate of $.49/$1000 for general services. Bonds issued for a property acquisition in 1999 added an average $1.50/$1000 to property tax bills until the year 2018. City operating overhead is kept low by having only two employees and contracting with neighboring municipalities for police, building, health and public works services. The City has a contract City Planner and a contract City Engineer. Both private companies and public agencies are used for the maintenance of City parks and streets.